In this, the final week of Disqus Channels, the mental breakdowns and true confessions are coming hard and fast. It's hard to keep up!
Paraphrased highlights from various folks follow:
The nazis: BLAH BLAH BLAH CAT GIFS BLAH BLAH RACIST NONSENSE BLAH BLAH I'M SO BUTTHURT ABOUT NEWS VIEWS AND/OR ATDT I DEVELOPED HEMORRHOIDS
Canadians: "Um, singaling's really a dude and stole our money. Singaling: "But I'm sorry, so it's okay. Thoughts and prayers to the rescue!"
This asshole: "I forgive you, singaling, because I did exactly the same thing but never admitted it! Now, Imma gonna write some southern-soundin' bible-thumpin bullsheet!"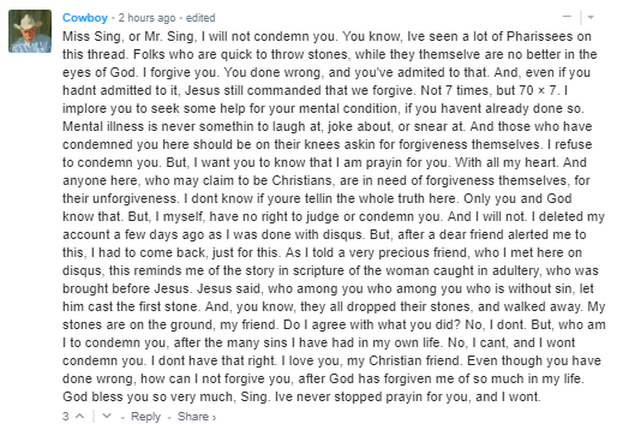 These assholes: "It's okay that cowboy's a lying sack of shit because I like "his" utterly fake persona! After all, I'm also a huge sack of shit, I'm utterly fake. and I'm self-centered as fuck!"
Tommy's Fanclub #1: One word. "Slutbutt".

Best. Writer. EVAR. Pulitzer, here he comes!
Tommy's Fanclub #2: "We're not chronic masturbators! Our pants just chafe!!!!! FUCK YOU BITCH!"
Dumbass Camp: Moron buys a gun, seeks attention
Phew! Let me know if you find any more before D-Day arrives!